Hear us talk about the future of classic gaming, interview the biggest names in the classic gaming business (uncut), review the latest emulation and "modern" classic gaming packages, reveal the best the internet has to offer, comment on the progression of gaming, and more …
A FULL YEAR of material include 12 full episodes of RetroGaming Radio featuring 10 new interviews, reviews, editorial rants, game flashbacks, Bits & Bytes of useful information, coverage of the Classic Gaming Expo 2004, extras galore, and more! This is the perfect continuation for those with the Year 1-5 collector edition or the Year 1-4 collection + Year 5!.
Interviews (many uncut!) with some of the greatest names in the classic game business (and some future great names) like Mark Richards (host of the Starcade TV show), Damon Kaluseen (Starcade Alumni), Arnie Katz (Co-Founder Electronic Games Magazine), Joyce Worley (Co-Founder Electronic Games Magazine), Bill Kunkel (The Game Doctor columnist), Billy Mitchell (Perfect Pac-Man Player), Steve Woita (Atari 2600 classics Quadrun, Taz, and Asterix), Don Daglow (Dungeon, Utopia, World Series Baseball, produced Adventure Construction Set and Racing Destruction Set), Bruce Davis (former CEO of IMAGIC, CEO Activision), Michael Welch (Scorched Tanks), and Ed Logg (Gauntlet, Xybots).
Professionally designed special edition slimline DVD case and insert as well as clean printed DVD labeling
A totally tricked out DVD-style interface (Windows only) for access a lot of the content on the disc.
Never before aired unused and cut audio clips including unused jam sessions between Bryan and Shane, reviews of pinball machines, goofy mic checks, unreleased alternate versions of the RGR intro theme, and more!
Specially recorded introductions
A Bryan "KidHype" Smith Memorial to honor his passing including Shane's recorded thoughts the day after Bryan passed away as well as the slideshow that played at his funeral
CGE 2005 High Quality Images and Video Clip
A collection of e-Zines written by Shane R. Monroe for Dark Unicorn Productions featuring great retro information about Amiga, CD32, and more.
Blooper Audio Clips
Shane's unaired Don't Know … Don't Vote campaign audio clip
Bryan's appearance on TechTV video clip
Video of the CGE 2005 Video Game museum tour
Never before seen pictures
And more …
"Well I received my Year 6 DVD today and man you have again out done yourself. What a fitting tribute to Bryan. The quality is simple the best." – Scott J.
"I just wanted to say that the entire presentation (from the package insert to DVD interface) is top-notch. I'm having a blast listening to a bunch of shows I have never heard before. I can't wait to get years 1-5" – esteban
"Got mine today. Great stuff, I listened to the bloopers right away and laughed quite a bit." – Demolition Man
[wp_cart_button name="Year 6 DVD-ROM" price="25″]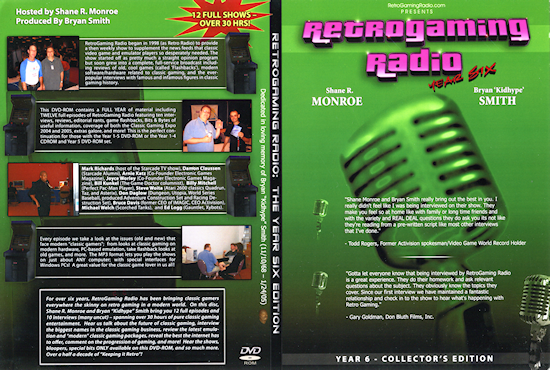 Actual artwork and interface graphics are always subject to change without notice.