Hear us talk about the future of classic gaming, interview the biggest names in the classic gaming business (uncut), review the latest emulation and "modern" classic gaming packages, reveal the best the internet has to offer, comment on the progression of gaming, and more …
A FULL YEAR of material include 12 full episodes of RetroGaming Radio featuring new interviews, reviews, editorial rants, game flashbacks, Bits & Bytes of useful information, extras galore, and more! This is the perfect continuation for those with the other DVD collections.
Brand new, full, uncut interviews with Bob Polaro, Keith Robinson, Howard Scott Warshaw, RW Bivins, Micahel Ware, Matt Ownby, Brien King, Ed Rotberg, Kelly Turner, Jamie Woodhouse
Video extras include: Video interview with Howard Scott Warshaw and Bob Polaro, Road Trip To Vegas, Staff at CGE, Pinball Hall of Fame Visit, Hotel Room, Pinball HOF Part 2
Photo extras include: Photos from CGE and the Road Trip
Audio extras include: Coin-Op TV B-Roll, Mobile Walkthrough, Day 2 Ramblings, Shane's Saturday AM Babble, Update from the show, Arcade Turntablism MP3
Bonus! Get FULL versions of Shane's own PC games vs.Ball and Kablooey Redux.
See what people say about RGR's DVDs…
"Well I received my Year 6 DVD today and man you have again out done yourself. What a fitting tribute to Bryan. The quality is simple the best." – Scott J.
"I just wanted to say that the entire presentation (from the package insert to DVD interface) is top-notch. I'm having a blast listening to a bunch of shows I have never heard before. I can't wait to get years 1-5" – esteban
"Got mine today. Great stuff, I listened to the bloopers right away and laughed quite a bit." – Demolition Man
[wp_cart_button name="Year 8 DVD-ROM" price="25″]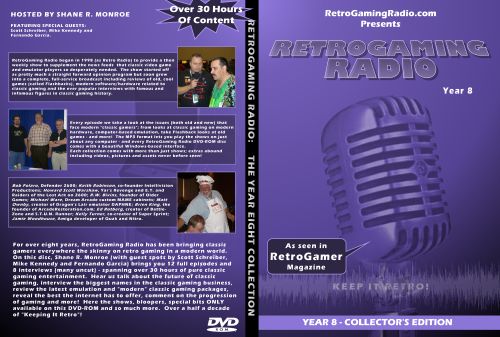 [embedyt] https://www.youtube.com/watch?v=ixXuHOfYf4o[/embedyt]
Actual artwork and interface graphics are always subject to change without notice.